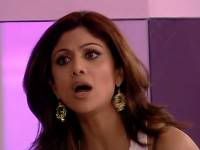 As many of you may already know, Indian film actress Shilpa Shetty is currently living in the Big Brother (UK) house. She has reportedly been paid a whopping sum of money by channel 4 to participate in the reality show. I started watching this series of Celebrity Big Brother as all the television shows I watch are in the middle of a season break and I was interested in seeing how Shilpa Shetty was doing in the house. And to sum it up in one sentence she is having a really tough time in there. The behaviour of fellow female house members towards her has been absolutely appalling.
First it was Jackie who refused to call Shilpa by her name and referred to her as "the Indian". Soon, her daughter Jade and Jade's boyfriend jack joined in on the act. During a conversation with Jade, Jack used a very offensive term for Shilpa which was censored. Most people believe he either called her a 'fucking paki� or a 'cunt'. However, without a doubt the word was extremely offensive as it troubled even the nasty Jade.


Later Jack called shilpa a 'wanker'. Ironically it's Jack who has been caught in the act more than once.
This Wednesday the assault on Shilpa went into overdrive after eviction of Carole Malone. Jade and her group blamed Shilpa for Carole�s eviction and dubbed her as untrustworthy. When Shilpa tried to clarify and sort out matters Danielle called her a dog and said, "You are only the cook, we are all friends".
In the video you can see Danielle calling Shilpa a dog repeatedly and when Shilpa asks Danielle if she did anything wrong Danielle says, "No. You are such a nice lady". What a coward!

And then a few mins later she tells Jade that Shilpa is trying to come between their friendship. Again both Jade and Danielle shout for a few minutes and end up looking like fools as Danielle failed to provide any valid reason for her behaviour.

On Day 11, Jade and co had a laugh at Shilpa's expense by mocking her for applying facial bleach (Danielle: "She wants to be white").
On Day 13, Jade and Danielle had another go at Shilpa for her cooking. While Jade said that she wouldn�t even give the roasted chicken to her dog, Danielle complained that it had too much spice and was too pink in colour. Interestingly enough when Danielle was asked to cook she refused and said that she doesn�t even know how to prepare roasted vegetables.
I think this debacle demonstrates the sorry state of human kind. We claim to be civilized, yet we have failed to overcome petty issues like prejudice and racism. The fact is that prejudice and racism exists in some form or the other everywhere. It�s not just a western phenomenon. In India for example there is still large scale discrimination against the so called lower caste people.
Prejudice stems from ignorance and Big Brother has done a commendable job indeed in bringing some of the most ignorant celebrities together. Their ignorance is evident from every statement they make. Here are a few examples:
Jackie to Shilpa: Do you live in a shack? (apparently she believes all Indians live in shacks)
Jo (with reference to Shilpa's cooking and the fact that Indian's eat with hands: That's why they're all so thin because they're sick all the time.
Jade: Rio de Janeiro – that's a person.
Danielle in a TV quiz show when asked if Winston Churchill was a rapper, a US President, a Prime Minister or a king: Wasn't he the first black President of America? There's a statue of him near me – that's black.
Jade: If I'm on the front cover of a magazine it probably sells more copies than Victoria Beckham. I'm the 25th most influ-inflin-inf infoolential person in the world. I don't even know what the word means. (Shilpa told her the correct pronunciation of the word after this).
Big Brother to Jackie: On Friday before you entered the house Big Brother gave the celebrity housemates a dilemma.
Jackie: What�s a dimella?
Not only that on her Big Brother application form, Danielle listed her birthday as December 17, 2006 (Source)
Yesterday, Dirk (an American) had to explain to some of the British house members what GMT meant!
Thankfully there are a few sane housemates who have noticed what is going on. All along the show Jermaine Jackson and Dirk Benedict have been supportive of Shilpa. Jermaine commented that Shilpa is the only coloured girl and was being picked upon. He even adviced her to use a few of her Kung-Fu moves (she has black belt in Karate). Jermaine consoled her by saying, "Jade can't read you because she's not on your level. It's like going to a meeting and it all going over your head." Another housemate Ian commented that �It's like bullying. I was bullied at school and it's not nice. It's really, really unfair".
Carol Malone who was voted out earlier this week wrote:
The woman (Shilpa) has heart and grace and elegance – all of which she's going to need because Jade and Danielle are gunning for her. Jade�s mum Jackiey hated Shilpa and constantly referred to her as "The Indian" which I found horribly insulting. Jackiey made life purposely difficult for Shilpa – shouting at her for no reason, criticising her cooking, and attacking her for being bossy. Most of the time Shilpa kept her cool because, as she says, in India you don't shout at your elders – you try to show them respect, a word Jackiey clearly doesn't understand or deserve.
THERE was a point where Jermaine and I were frightened Jackiey might physically attack Shilpa.
She went on to say that Shilpa is too good-looking for her own good. I believe she may have hit the nail on the head as far as Danielle's attitude towards Shilpa is concerned. Danielle who was chosen as Ms Great Britain (she was later stripped of her title for having alleged relationships with one of the judge), has proved how superficial these beauty contests are. Ironically Danielle Lloyd is a supporter of ECHO's Bully Busting campaign and was herself a victim of bullying in school (Source)
What is even more infuriating is Endemol's attitude towards this issue. They have been trying their best to project Jade and her gang in good light by biased editing and in spite of plenty of proof to the contrary they continue to claim that no bullying is going on in the house.
Unfortunately for them, a lot of people watch the live stream of the big brother and knew exactly what was going on. The sensible British public raised their voice in the internet forums and many complained to Ofcom. According to media reports Ofcom has received more than 200 complains. An online petition calling for action against the bullies has so far received 2711 signatures. Ofcom recently revealed that they are investigating the matter. This campaign launched by mainly forum members has also resulted in the coverage of the issue by the mainstream British media.
While most of the British Celebrities have been embarrassingly shallow, Shilpa has done Indians proud. Throughout the show she has been dignified and graceful. Unlike all the other girls she hasn�t engaged in bitching and has remained positive in spite of all the expletives hurled at her. Kudos to her!
Media Reports
The Telegraph (India)
Times of India
ITN News
Daily Mail
Manchester Evening News
Guardian
BBC
Mirror
Glasgow Daily Record
This is London
Mirror
In fact this has become an international news with many dailes from countries like Malaysia and Nepal covering it.
Update #1 (16th Jan): BBC reports that more than 4,500 complaints have been received by both regulator Ofcom and Channel 4.
Update #2 (17th Jan): The issue will be raised by NRI Keith Vaz (MP from the Labour Party) in the British parliament. Meera Syal from The Kumars At No 42 has said :
There is a very thin line between what is entertainment and a vile spectacle and I think we are in that area now. What this treatment of Shilpa has done is remind a lot of Asian people in Britain of the type of uncomfortable treatment they've received themselves over the years. I have great admiration for the way Shilpa's handled herself. But Channel 4 have been obviously rubbing their hands at the audience figures because everybody is talking about it now.
Update #3 (18th Jan): Jade and her gang's bitching against Shilpa continued. Jade seems to have made up her mind to start shouting at Shilpa as soon as Shilpa opens her mouth to say something. But, Shilpa has also decided to fight back without loosing her dignity (with the help of smart one liners)Have a look at this clip from Big Brother's Little Brother

Meanwhile, Channel 4 continues to deny that rasicm or bullying is happening inside the house. However, Danielle was caught admitting that she was warned secretly by Big Brother.
Ofcom has recieved more than 20,000 complaints against Big Brother which is the higest ever. Today the issue was discussed in the British House of Commons and India has requested a proper inquiry into the matter through the British High Commision (in India).
Update #4 (19th Jan): While initially C4 tried to play down the controversy by attributing the confrontations to simple girly rivalry. Now, they are defining it as a cultural clash ! Yesterday, they called Jade into the Diary room and spoke to her for about an hour. After coming out Jade made the following statement and apologised. According to reports she was instructed to do so. This is what she said :
Kate Moss invited me back to her house for a party, that's my claim to fame. Not Shilpa Derupa. I don't know what her name is, particularly. I don't really care. LIke I said last night it's Shilpa Poppadom or something. It was just, as in, I'll take anything – Shilpa Poppadom. It wasn't anything. If I've offended any Indians out there, I apologise.
Even while apologising her language was crude and offensive. The term Poppadom is considered by many to be a racist one. When a normal person had used it against a co-worker, she lost her job (Source). Let's see what explanation C4 offers this time.
Update #5 (21st Jan): Jade Goody has been evicted with a whopping 82% of votes. Jacqueline Goody Jade Goody's grandmother has confessed to coloumnist and evicted CBB contestant Carole Malone that she believes her grand daughter is a racist bully. You can read her coloumn here.