FrontMotion Login is a software that replaces your dry and boring default Windows Login window with a more interactive and cool looking one. What makes it stand out from other such software is the fact that it makes use of Macromedia Flash. Thus the login windows are animated and interactive.
FMLogin provides 6 English and 1 Chinese theme out of the box. Click on the thumbnails below for a preview.
Luna Green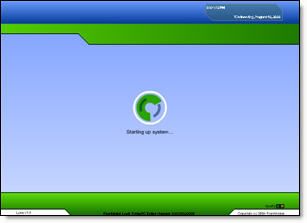 Bubble OS Blue
While using FMLogin I didn't notice any large slowdowns as far as startup and shutdown is concerned. However, this depends largely on the theme. Heavy themes can cause some slowdowns.By default, FMLogin replaces the associates itself with the shortcut Ctrl+Alt+Del, and presents a menu instead of opening the task manager directly. I found this annoying (unfortunately this is also the default behaviour in Windows Vista). However, it can be disabled very easily. It fully supports Startup/Shutdown, Standby, Hibernate, Logon/Logoff and Fast User Switching. It also retains the support for inserting Legal Notice Caption and Legal Notice promt, which are little known features in Windows
buried deep in the registry
.
A part from replacing logons another useful function that FMLogin provides is the ability to lock the screen while you are away from your pc.
FMLogin is a really nifty software, however its greatest strength is also its greatest weakness. While the use of Flash makes it possible to add great effects, it also makes creating new themes more difficult. In fact there are just a handful of skins available. To make matters worse there is no central repository for storing skins so often users make skins, upload them at free uploading services which gets deleted and lost with time.Overall, this is one impressive software.
My Rating
: 7/10
Price
: Free for personal use
Visit Official Site